Protecting Our Parks in British Columbia: A Happy Convergence
It is a huge challenge to manage and protect 644 provincial parks, four of which are UNESCO World Heritage Sites,  24 others are UNESCO Biosphere Reserves. The BC Parks Foundation is there to help!
Canada's westernmost province is promoted as Super, Natural British Columbia for its reputation as a destination where visitors can  renew themselves through interactions with nature. British Columbia (BC) Parks is the provincial agency that protects and sustains the network of more than 1000 parks that make those interactions possible. It is a huge responsibility because BC has the 6th largest park system in the world. In recent years the agency really needed a partner to help shoulder the burden. The BC Parks Foundation was formed in 2018 as the official charitable partner; creating  a "happy convergence," in the words of CEO Dr. Andrew Day. The Foundation is bringing governments, businesses, communities and donors together  to create great parks and park experiences, ensuring long-term protection for the province's vast natural resource.  According to Day, their "big, hairy, audacious goal" is simply that British Columbia has the best parks system in the world, supported by an active local and international community (yes, that's all!)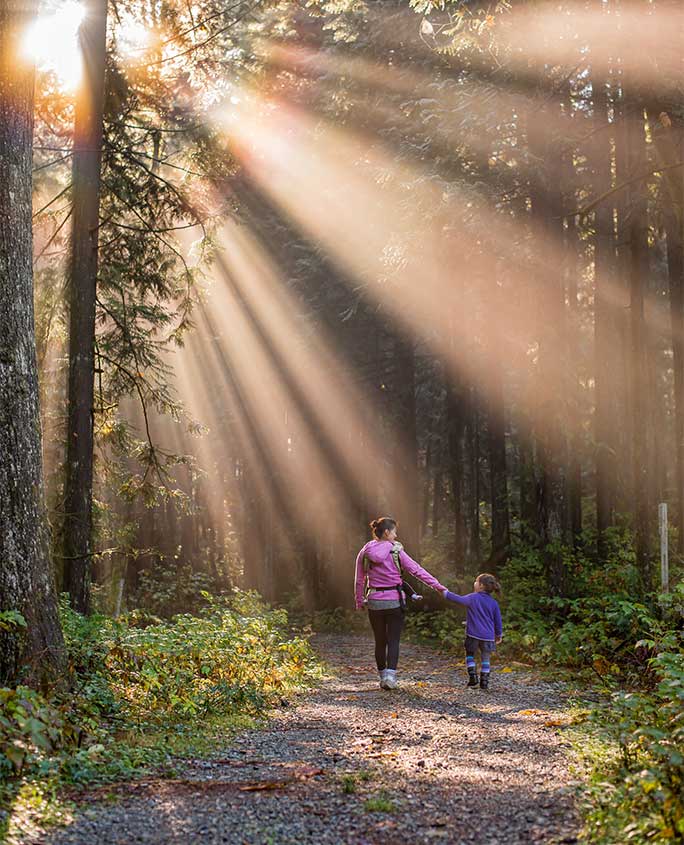 Day is proud of the work achieved in less than three years. "It's thanks to the goodwill of supporters through donations and volunteerism that we have been able to protect more than 3000 acres on seven parcels of land." A great example is the Foundation's purchase of properties in Princess Louisa Inlet – the "Yosemite of the North"– following a $3M fundraising campaign that went viral around the world.  The magnificent, pristine inlet is a world-renowned destination, home to marine life, grizzly bear, cougars, and old growth forests.
The Foundation's small team  handles much more than fundraising and land acquisition. For example, their  new  "Healthy by Nature" initiative in which the healing powers of nature are delivered through programs such as "Park Prescriptions" and "Outside Unplugged." The first – a fascinating innovation – involves working with healthcare professionals to prescribe time in nature to those who will benefit most. And the "Outside Unplugged" program provides youth, refugees, and other vulnerable populations with much-needed time outdoors.
The real estate market in BC is very hot right now, and the Foundation is working on several potential land acquisition projects to expand  BC's permanently protected natural spaces. This includes the protection of the famous Lonesome Lake – the place where trumpeter swans were brought back from the edge of extinction. That means purchase funding is needed soon. Recently BC Parks Foundation became a grantee of American Friends of Canadian Conservation to make it possible for US taxpayers to support the Foundation's goals and programs with tax deductible donations.
Dr. Day appreciates the valuable role  American Friends can play in land transactions  or monetary gifts from American donors. "I am so impressed with the spirit of the Friends, bridging the goodwill in both of our countries to achieve great conservation outcomes." He notes that the American Friends' expertise and bi-national tax status can influence US donors'  decisions to give. The Foundation may target a property owned by US taxpayers, in which case the partnership with American Friends could be pivotal.
If you are passionate about BC's wild lands, make a US tax-deductible gift to invest in the future of BC Parks or receive a Canadian tax receipt by donating on the Foundation's website. To learn more, visit the BC Parks Foundation.
https://www.conservecanada.org/wp-content/uploads/2021/03/Nature-Therapy.jpg
684
845
admin
https://www.conservecanada.org/wp-content/uploads/2019/05/AFCC.logo_.transpfooter-300x150.png
admin
2021-03-18 11:37:39
2021-03-18 11:37:39
Protecting Our Parks in British Columbia: A Happy Convergence