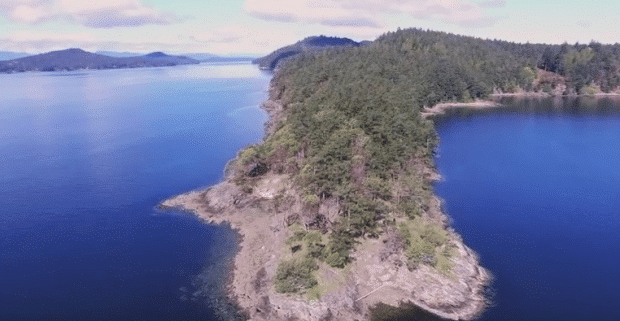 American Friends of Canadian Conservation and Partners Create New Park in British Columbia at St. John Point
American Friends of Canadian Conservation and Partners Create New Park in British Columbia at St. John Point
St. John Point, a 64-acre waterfront property on Mayne Island, is going to be a new regional park in the Southern Gulf Islands of British Columbia, thanks to a unique collaboration.
At the southwest tip of Mayne Island, St. John Point features 1.3 miles of pristine shoreline complete with beaches, a series of dramatic coastal bluffs connected by meandering trails through mature Douglas Fir forest, a prime remnant of a rare Salish Sea ecological zone, and extensive eelgrass beds. Located near the international border, Mayne Island is served by the BC Ferries system, making it accessible for low-impact, oceanfront recreation.
St. John Point was owned by three brothers, one of whom lives in Canada and two of whom live in the U.S.  They sold this beautiful property to American Friends and the Mayne Island Conservancy Society for a reduced price to make conservation feasible.  The Capital Regional District (CRD), the local regional government, then purchased St. John Point from the Conservancy and American Friends.  The CRD contributed CAD $2 million towards this acquisition; the remainder of the CAD $3.6 million purchase price was donated by individual donors who cherish St. John Point, with help from several Canadian foundations.  American Friends was able to use its unique charitable status in both countries to facilitate this landmark international conservation arrangement
The American brothers sold their 2/3 ownership to American Friends for a price below the appraised market value.  The portion of the appraised value that the American owners donated is tax deductible in the US because American Friends is a U.S. charity. The Canadian brother sold his 1/3 share to the Conservancy, which will provide him with a Canadian tax receipt.
Parks Canada and the Nature Conservancy of Canada recognize St. John Point as a national, provincial and regional conservation priority.  "The CRD recognizes the high recreational and conservation values of the property on Mayne Island," said David Howe, CRD Southern Gulf Islands Electoral Area Director. "This purchase is an example of working together to ensure the natural areas we enjoy today continue to benefit future generations."
"The Mayne Island Conservancy Society is thrilled to partner with American Friends and CRD to acquire this wonderful property.  The public funding was matched with generous contributions from Mayne Island residents and visitors," said Malcolm Inglis, President, Mayne Island Conservancy. "Together we have assured the protection of this magnificent stretch of Coastal Douglas Fir landscape and over 2 km of coastline while also adding to the common wealth of publicly accessible lands for everyone who loves the islands."
"St. John Point will be a model for other Canadian government agencies and conservation organizations seeking a way to acquire ecologically significant properties owned by Americans. The landowners' commitment to maintaining the natural character of St. John Point and willingness to donate a substantial percentage of the appraised value made this effort possible," said Sandra Tassel, Program Coordinator, from American Friends.
American Friends of Canadian Conservation is a U.S. charity created to support protection of Canada's natural heritage. Its bi-national tax status makes it possible to protect priority lands owned by U.S. taxpayers. Since completing its first transaction in 2011, American Friends and its Canadian partners have conserved nearly 3,000 acres in 25 transactions located in five provinces. For the most recent annual report of American Friends go to https://conservecanada.org/about-us/annual-report.
Help preserve wild spaces in Canada.  To donate or for more information about cross-border conservation or American Friends please contact:
Sandra Tassel, Program Coordinator, info@afoclt.org, 360.515.7171
See beautiful St. John Point and learn about the transaction in these videos.
https://www.conservecanada.org/wp-content/uploads/2017/12/st.-johns-point-intro.png
349
620
admin
https://www.conservecanada.org/wp-content/uploads/2019/05/AFCC.logo_.transpfooter-300x150.png
admin
2016-01-08 17:47:13
2016-01-08 17:47:13
American Friends of Canadian Conservation and Partners Create New Park in British Columbia at St. John Point