The Ontario Land Trust Alliance represents the network of land trusts across Ontario.
Land trusts are community based, non-profit organizations primarily focused on protecting significant natural landscapes for future generations. They also provide protection to important agricultural lands and cultural heritage features. More than 85,000 acres of significant natural lands and sensitive wildlife habitat has been protected through the actions of Ontario's land trusts.
OLTA promotes excellence in land conservation throughout its land trust member network by providing professional support and assistance, securing funding, promoting organizational excellence and representing the collective voice of the land trusts.
Executive Director: Alison Howson, alison.howson@olta.ca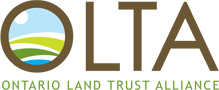 10 Adelaide St. East, Suite 401
Toronto, Ontario M5C 1J3
P: 416-588-OLTA (6582)